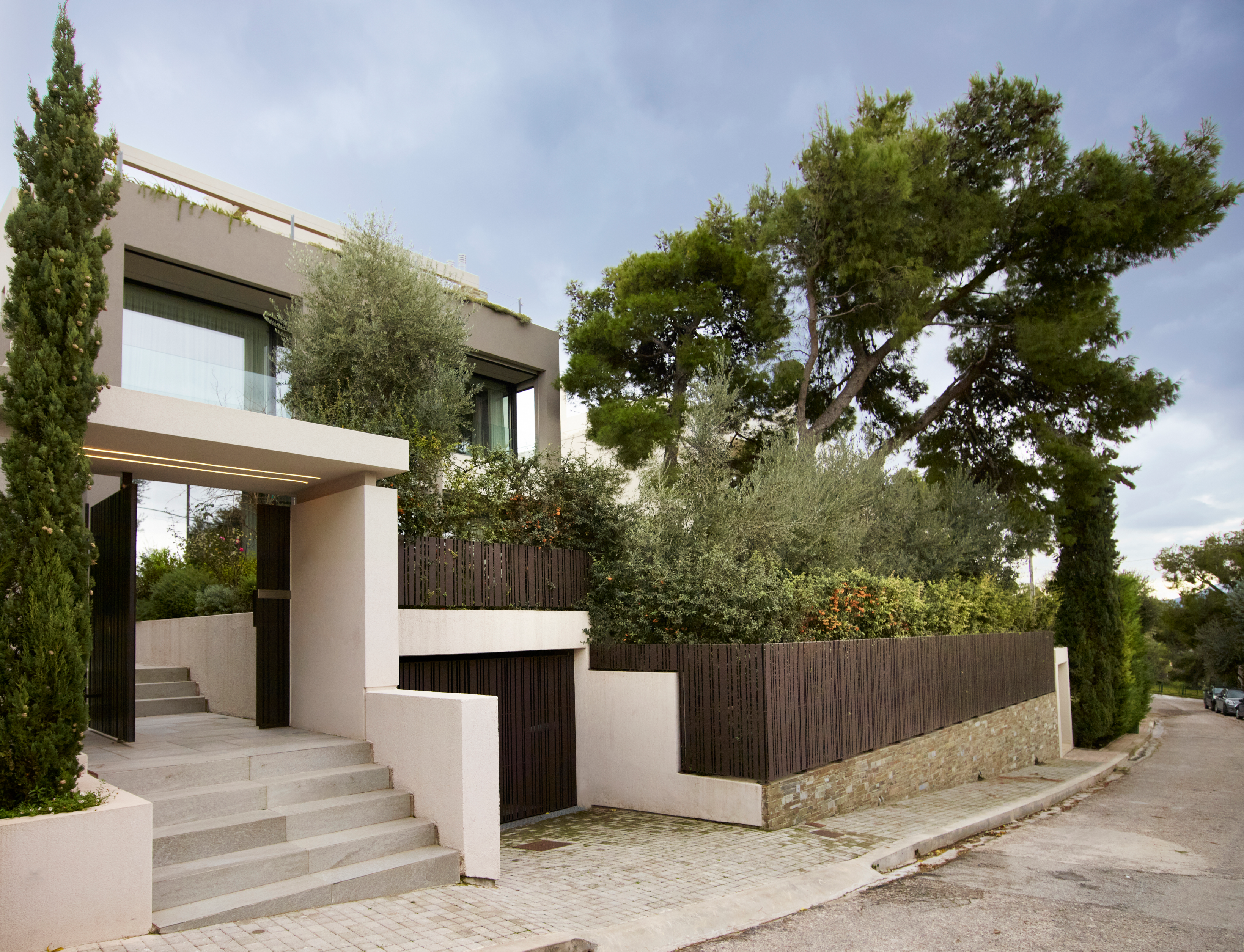 Residence in Filothei
The Residence in Filothei was designed based on the principles of Rationalism in architecture, with a simple style, straight lines, symmetry, and low ornamentation. It is a contemporary but timeless structure, with the large continuous glass openings providing the main characteristic for formulating the geometry.
The residence is organized on three levels (ground floor, first floor, and second floor) with the floor plans on all levels defined by strict demarcations so that the living functions remain distinct. The open-plan living areas are found on the ground floor, with an isolated kitchen and direct access to the garden from all sides. The bedrooms are found on the first floor, while the second floor houses the study and the planted terrace which offers unobstructed views.
The residence's interior design is defined by a unified style and simplicity and the materials were selected to reflect this. The materials used include wood floors, stone cladding from Pelion stone for some walls, as well as neutral colors combined with fabrics in earth tones. The result is the creation of cozy and welcoming spaces.
For the exterior, the plot's existing trees were preserved, while other trees and plants were also planted, such as olive, pomegranate, cypress, rose, lavender, and rosemary. These trees and plants do well in a Mediterranean climate, which suits the area.
Architectural Design: ACRM
Study Team: Giorgos Papazoglou, Kelly Vidrou, Stavroula Stathokosta
Location: Filothei
Surface Area: 550m2
Photography: Vangelis Paterakis
Construction & Project Management: ACRM
Project Engineer: Yiannis Mylonas
Interior Design: Fiorentzis – Pavgelos Interior Design
Date of Construction: 2018